Providing high quality rebuilt screen printing equipment for a
fraction of the cost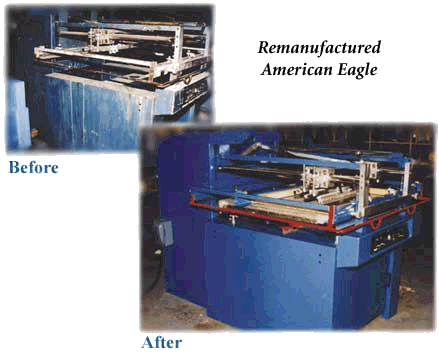 Remanufactured screen printing equipment from A.W.T. World Trade, Inc. delivers like-new performance at significant savings.

With decades of experience in the screen printing industry, A.W.T. World Trade, Inc. understands the challenges that screen printers face - including the rising cost of new equipment. We can help you meet that challenge with our extensive inventory of premium remanufactured screen printing equipment.

Our technicians can take any screen printing press, textile dryer, or graphics dryer and rebuild it at a fraction of the cost required for a new machine. When you purchase remanufactured screen printing equipment from A.W.T., you'll know exactly what you're getting - the highest quality and finest-built equipment in the industry - all backed with a 90-day warranty!
Screen printing machines are dismantled to their frames/chassis
All parts are thoroughly inspected and cleaned
Paint is removed and the units are repainted
Vacuum tables or pallets are professionally resurfaced and leveled to original tolerances
Bearing, belt, electrical wiring, and other parts prone to wear are inspected and replaced
Gear boxes are inspected and worn gears are replaced
Gear boxes are reassembled with new seals and filled with fresh oil
Motors are thoroughly inspected and brushes are replaced
The screen printing presses are reassembled and realigned in accordance with original factory specifications
All remanufactured screen printing equipment is are thoroughly tested prior to shipping

When our process is complete, the units are in like-new condition and ready for years of trouble-free operation. A 90-day parts-only warranty is included on remanufactured machinery.

Hundreds of satisfied customers have purchased remanufactured screen printing equipment from our extensive inventory. Contact us to learn more about our services, the quality you can expect and the thousands of dollars you can save compared to purchasing new screen printing presses or drying and curing systems.

A.W.T. has a broad selection of expertly remanufactured screen printing machines in like-new condition, warranted and available at extremely reasonable prices. Our stock of rebuilt screen printing equipment is constantly changing, so please call to let us know your requirements.
A.W.T.'s remanufacturing standards
are above any in the industry!
Our procedures include:

1. Stripping and press/machine down to its framework
2. Cleaning and thoroughly degreasing the frame
3. Applying a new coat of paint
4. Professionally resurfacing and properly leveling the vacuum bed, where applicable
5. Inspecting and replacing, if necessary, bearings, belts, electrical wiring and all other parts subject to wear
6. Opening and inspecting gear boxes
7. Replacing gears that are worn or even questionable, and the reassembling the gears with new seals and filling with fresh oil
8. Inspecting motors and replacing brushes
9. Reassembling, aligning and returning the equipment back to original factory specification (modification are available)
10. Thoroughly testing all equipment prior to shipping

WANTED:
USED EQUIPMENT
We are always looking to increase our inventory and expand our selection of items for screen printers.

Call us if you have something to sell in any condition. Especially wanted are: textile, graphic or 3-D printers and dryers.

Send a photo and fax us a list or you equipment.